B2B marketing is and will remain one of the most essential dynamics in the business world.
There are a plethora of approaches that can be adopted for B2B digital marketing strategy for E-commerce.
These include different virtual advertising efforts as well as real time advertisements. Some of these approaches involve the betterment of your company reputation: even the goodwill of a company is advertisement enough, if practiced properly.
Since there are various marketing approaches, it is foolish to try and dabble in every one of them. The best way to go is to select and perfect a few of them.
A more centered marketing effort is far better than a spread out, half-hearted one.
Now, how should the strategies be selected? To do this, you should know your company and your industry. When you know exactly what is best for you and your company, you can easily select the most suitable strategies.
Here are some B2B E-commerce marketing strategies:
Well-made websites:
The most important medium for B2B marketing (or any marketing) is a website. Now, websites exist and judging by their infinite amount, one can gather that everyone has a website. How can you make your website stand out among that lot? You should make yours as perfect and user-friendly as you can.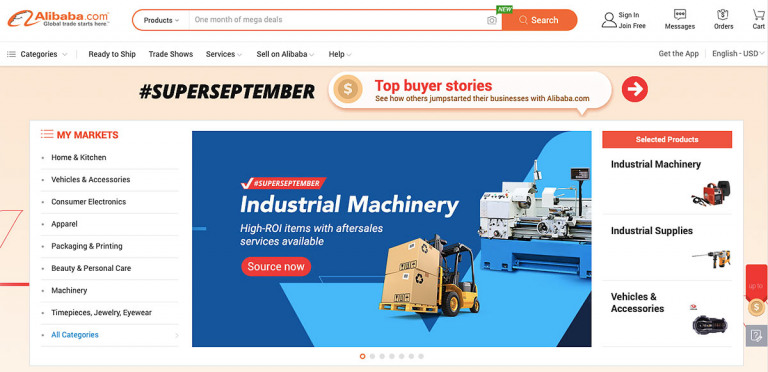 There are a few things that come into account when making a website. These involve its accessibility and its design. The usability of any website is as important as its appearance.
Websites are the most generic step to take on the internet. There are many specific things as well that can be used as B2B E-commerce strategy. The following approaches are some examples.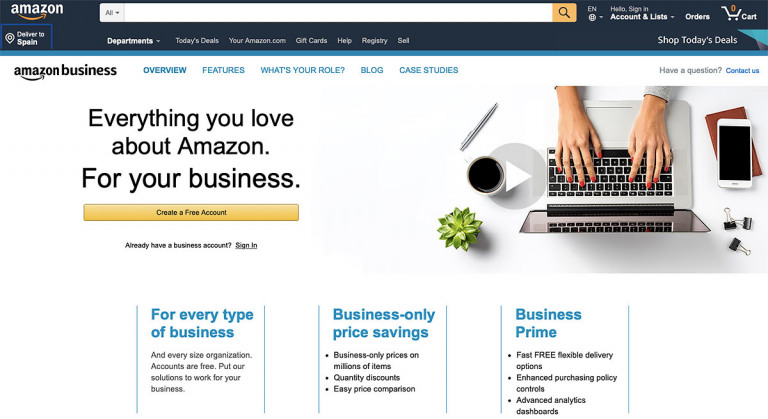 Marketing with Video content:
One very efficient and commonly used way to properly advertise your B2B product or service is to do it via video. Videos are far better when it comes to marketing as they can convey your message and express the idea at hand very elaborately.
Telling a personal story about a product is a powerful way to connect with your audience.
Here is great video on Raspberry Pi:
Videos can be used on all sorts of platforms, ranging from your own website to social media. Webinars are a suitable example of video marketing.
Content Creation (Content Marketing):
Online marketing involves many different approaches and there are many different methods you can use. Content creation, although old, considered the pinnacle of online marketing. By using blog posts and informative articles, you can raise awareness about your product/service and advertise it while appealing to the interest of your readers.
Personalized Communications:
Throwing generic templates at your potential customers won't get you anything. When you communicate with your clients, you have to give each of them a seperate, slightly unique and personalized message. This induces trust in your prospective clients and is very advisable to do.
These are some of the things you can build your website around. While the other strategies on this list are based online, they are of a slightly different nature.
Automation is the next step in online marketing. By making everything automated, you can decrease the chance of your client getting unhappy since everything is done with mechanical perfection. Falling into this category, we have:
Chatbots for E-Commerce Business:
Implementing chatbots in your website is a great way to increase usability and ease of access. Having a virtual guide on your site can help in making the experience easier for visitors. Most sites implement this by putting a "Hi! Can we help you?" or "Talk to us!" prompt in a corner of the page.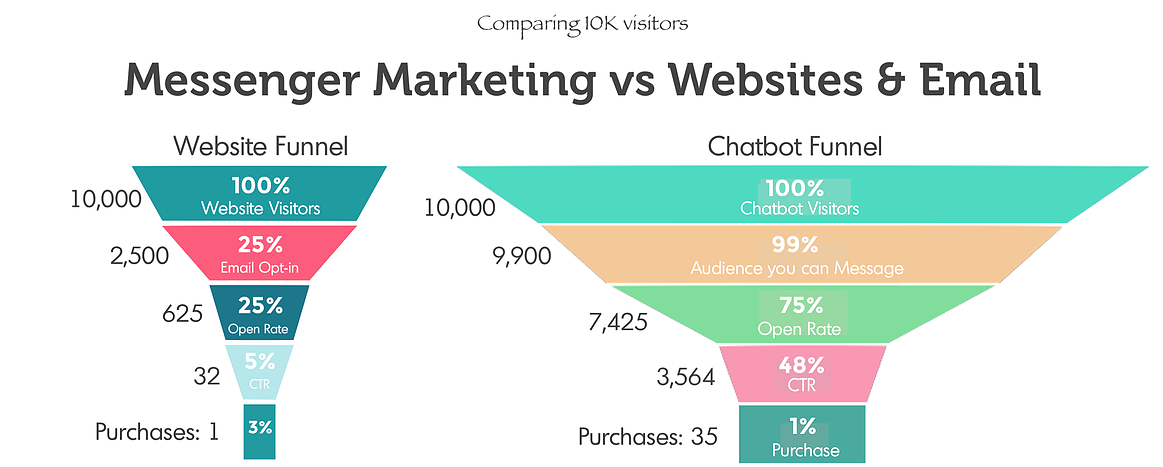 Tommy Hilfiger was able to increase the return rate of their customers to 87% using messenger chatbot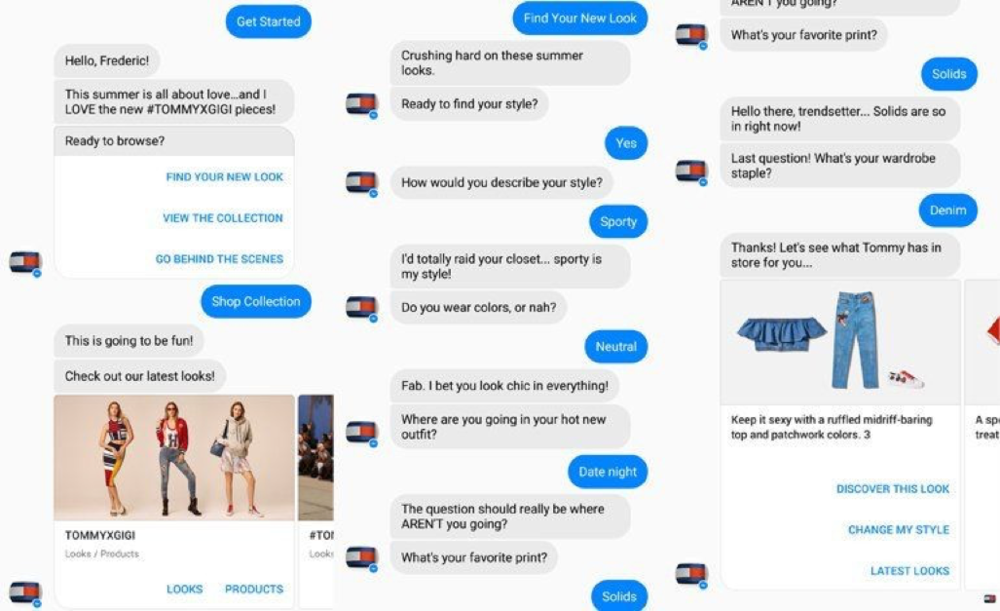 Email Marketing for E-Commerce Business:
Another successful way of spreading the word is by sending direct emails to the prospective clients. However, you must take care not to be intrusive and annoying. To do so, companies often put a prompt in their emails that the reader can use to subscribe to their newsletter. This way, the interested readers can subscribe while the uninterested will merely ignore it.
Here are few email marketing templates for your e-commerce business: https://sleeknote.com/blog/e-commerce-email-marketing
Online Influencers:
Nowadays, another method that has been put to use is influencer marketing. In this method, an online influencer is contacted. These influencers can be on Instagram, Facebook, Twitter or any sort of blog etcetera. For a fee, your product/service can be advertised by the influencer. Depending on their audience, you could get a lot of traffic.
Podcast Marketing for E-Commerce Business:
Another new online feature that you can use for marketing purposes is podcasts. Either hosting your own or piggybacking on a popular one; you can attract some traffic through this method.
Local SEO:
Much like actual SEO, you can use local SEO to gain popularity via relevant content. Local Search Marketing can be used if you know that your target market is located around you. For example, if you have a surfboard business, you should set up local SEO in a beach area. Doing so in a dry arid area will make no sense since there will be no interested party. Increasing your online presence by fixating on local searches can be very effective if done properly. Such searches can be brought forward by keywords like "Near me" or "Close to me" etcetera.
Online Reputation Management:
Like the name suggests, this method relies on your online reputation for effective marketing. Many companies outsource this service. By your company's goodwill, prospective clients are attracted to your service/product.
Marketing via Social Media for E-Commerce Businesses:
Similar to influencer marketing, this method relies on social media. To increase the reach of your company, you can cover various platforms like Facebook and Twitter. This is very useful as it makes your company easy to find.
Search Engine Optimization for E-Commerce Business:
SEO is the most important aspect of marketing nowadays. Your website, pages or profiles hold no value if they are not optimized to the proper search keywords. SEO increases the relevance of your webpages and it decides where your site will be shown in the search results.
SEO is a complex topic but its essence can be easily described. By increasing the relevance of your site in the eyes of the search engine (Google, Bing, Yahoo), you can make your site appear higher and higher in the search results. The company with the best SEO will be shown on the top spot.