The automobile industry is a multi-billion dollar business that has a profit base on every continent.
The auto industry has one of the hottest competitive platforms in the business world.
Cars of the same model with updated features are released on an annual basis by companies wishing to keep the competitiveness of their business alive and kicking.
The auto companies continuously compete for a pride of place in the industry, and the company that gets to be the top naturally receives the best customer base with a lot of profits to go with it.
This blog post will help you create a solid digital marketing strategy for the automotive industry
Omni Channel Marketing for Automotive Industry.
Be where your shoppers are! Your digital marketing strategy success will depend on being visible and available on all the platforms where your potential customers are.
86% of car shoppers do their research online before they are ready to visit a car dealership.
The best way to use this strategy is by getting the full benefits on the web for all to see.
Content Marketing for the Automotive Industry: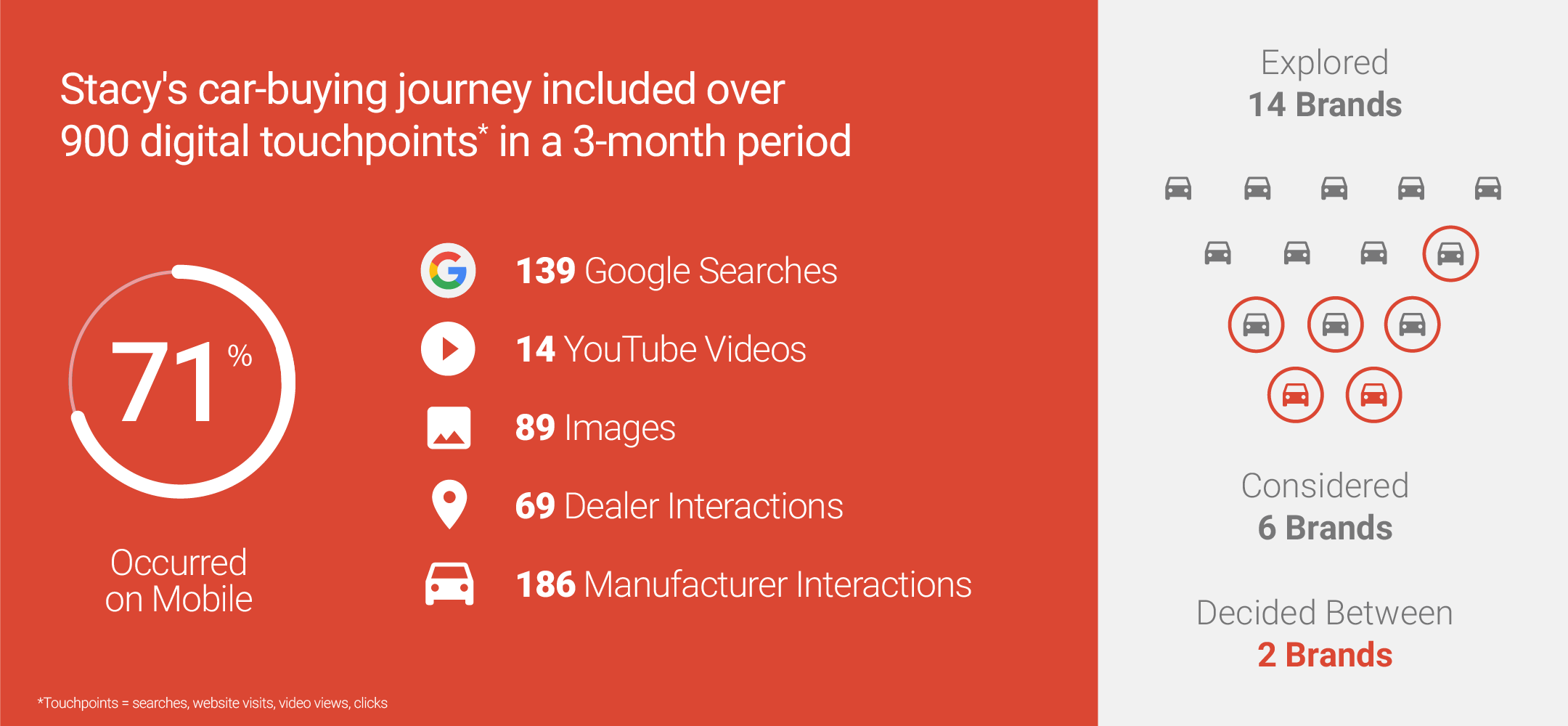 Your automotive content marketing strategy should align with the goals of your shopper's goals. The above research study from Think With Google is a great example of why auto brands need to focus on content marketing efforts.
Here are some good ideas to create content related to automobiles:
How-to videos, blogs, and infographics
Build a content hub
Livestream on social channels
There are many websites today which provide related content across mobile and web platforms.
This helps your customers in accessing the content they desire from your products.
In the technological age, mobile devices revolutionize our access to information every day.
So making your pages flexible for all platforms is very important in getting your strategy to work.
Social Media for the Automotive Industry:
An average buyer will spend around 15 hours in researching an automobile brand that includes:
Reaching out to other car buyers(0.4 hours)
Researching with print ads and offline channels(0.3 hours)
Talking to dealership where the car will be purchased(3 hours)
Visiting other dealers in the area(2 hours)
Reaching and due diligence online(9 hours)
Since most of the time is spent online, Social media is a useful strategy in promoting your auto business.
Most, if not all, of your potential customers, maintain a social media account.
What better way to catch their attention than to engage in a very organized, direct approach to lure them toward purchasing your product, or investing in your business.
Social media is potent in the formulation of an air-tight marketing plan.
Video Marketing for the Automotive Industry:
Buyers prefer watching brand videos and auto videos have increased 4 times in the past few years.
More than 65% of automotive shoppers shortlist their preferred brand after watching a video.
Video marketing should be interwoven with good TV advert.
Getting a good video produced to advertise your car showing off its best features is a sure way to get more buyers on board.
Here are some video marketing ideas for the automotive industry:
Tips and best practices to maintain your car, repairs, and upgrades.
Customer testimonials from satisfied customers.
Teaser videos on new vehicles, announcements, and exciting new features.
Myth busters on common auto myths and misconceptions about automobiles.
Behind the scenes videos about car manufacturing.
Search Engine Optimization for the Automotive Industry:
Every effective marketing strategy must involve a search engine optimization policy.
The use of SEO ineffective digital marketing is indispensable.
Proper SEO services will put your website in front of the majority of the subscribers who search for the best in auto products.
Google Ads for the Automotive Industry:
According to eMarketer, the US automotive industry will have double-digit growth in digital ad spending through 2020. In 2019 the digital ad spend increased by 22 percent in the automotive industry.
Google Ads is an excellent strategy to get your company more clients.
The use of Google Ads generates more traffic for your website if you effectively use them by putting useful keywords in your adverts.
Whenever a prospective client searches the internet using any keyword in your ad, your company's products are sure to pop up.
This can be used to your advantage and reap your company more easy profits.
Try this platform today, and it'll be a valuable tool in your strategy arsenal.
Get good reviews for your cars:
Reviews of your vehicles and other services you offer along with them can make your sales rise astronomically.
You can improve your online reputation by asking for reviews, manage good and bad reviews by responding and converting good reviews into positive testimonials.
Reviews and ratings help amplify the digital word-of-mouth since these conversations happen on the internet and everyone can read the reviews left on your business page.
Use test run videos in target areas showcasing your product:
Just like airlines make use of flight simulation to train pilots and give them a heads-up on the added functions of a new airliner, your company can also make use of online test run videos to exhibit the features of your product.
The strategy will not work if it doesn't get online.
Your company can make the videos from these test runs available online, and that'll help in increasing the popularity of your product and rake in more long term benefits.
Get information on what your customers need from your products:
Getting your customers' opinions on your products can be priceless for your business.
The most effective way of getting such information is through the web, where most people have the freedom to speak their minds without fear of favor.
This may not seem like a marketing strategy to some, but it is.
Getting to know what your customers expect to get from your products gives you a better idea of what you should deliver.
This strategy is made to provide future benefits and is not to be taken lightly.
Get the information about your cars out there, everywhere:
When you get a new model for release in a few months or have successfully upgraded an existing version of your products, the best thing to do is to get the word out there.
The specifications, added features, bonuses for purchase should be available before your cars ever get to be on commercial sale.
This builds up feelings that are incomprehensible in buyers and may get some investment opportunities for your company.
Conclusion
The auto-industry remains ever-competitive, and the competition continues to get higher by the next big release of a rival company.
The race to meet up or stay up can be easily achieved using the tips we have here.
These tips will help turn your auto company online marketing campaign into PR gold.