If we talk about retail stores there are window shoppers and some genuine shoppers.
The latter ones help in generating revenue as they try and buy while the other ones only try without making a purchase.
Similar is the case with online platforms. Customers land at your page but only a handful of them convert into revenue-generating leads.
Conversion rate optimization (CRO) is about deep diving and understanding your customers to provide better user experience and convert them into leads.
There is no one answer in CRO as it depends upon the nature of your business and the range of your customers.
Conversion rate optimization(CRO) is a process for increasing the percentage of customers, leads, or anything other KPIs set by your marketing team as compared to the total number of visitors to your website.

Below, we have compiled 8 conversion rate optimization best practices.
Conversion Rate Optimization – Data study:
Before making any strategy, you need to study the right data set. The right set of data eliminates guessing and hunching and assist in devising strategies backed by analysis.
For instance, studying the data will help you draw some analysis on the number of people landing at your site and quantum of time spent before making a purchase decision.
This will help you in strategizing the layout of your website, improvising payment platforms for better user experience.
Conversion Rate Optimization – Survey:
It is always beneficial to listen to the customers directly. Design a survey that a customer can fill before leaving the online platform.
It must be voluntary but should be descriptive enough for you to understand bad experiences and good experiences.
Define Conversion Rate Optimization KPIs:
It is significant to focus only on key performance indicators (KPIs) to derive revenue.
There might be ten data points but only four of them might have a direct correlation with your revenue.
For instance, a customer who landed up only for browsing has fewer chances of conversion vs the customer who spent equivalent time on browsing but had failed payment. The latter should be your target.
Identify the problem:
To sustain the business in the long run, it is significant to understand the problems of customers and work backward from there.
Identify the root cause of your missed sales and work backward to solve for it.
Hypothesis: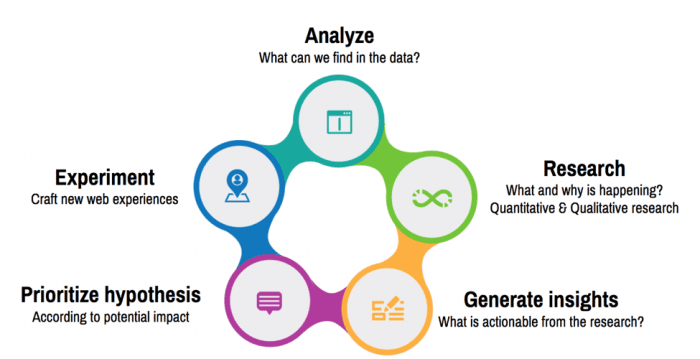 After you have identified potential problems, run a hypothesis test or a simulation on old data to see if this could work.
If you think it's not possible, run a pilot after doing cost and benefit analysis. It will provide a fair picture of the idea implemented.
Improve SEO ranking:
Improve the SEO ranking of your website which means prospects might be unable to find your website and hence the footfall is very less.
While you are trying to convert customers who landed, it is always an option to attract more customers who might be unaware of your web existence.
Guide customers:
Many websites lack directional indicators to guide customers.
These help customers in navigating and thus, decrease the time they spend on figuring out where to go! For instance, the cart icon should always be flashy to remind customers about shopping!
Few common tips:
Some of the widely accepted conversion rate optimization practices include shortening the checkout process, offer more forms of payment (wallets, cards, COD, etc) and allow customers to log in through Google/ Facebook rather than asking them to create an account.