Voice search is a technology that is proliferating, and it is for a good reason. It is critical to have a voice search optimization strategy to adapt your business for the future.
More than 20% of all Google mobile queries are voice searches. Isn't that crazy? Voice searches have grown 40X since 2008 and by 2020 50% of all searches will be voice searches
More and more people are using voice search on their phones, laptops, iPads and smart devices like Amazon Echo or Google Home devices to find the information on the internet.
We are going to discuss some of the most effective voice search engine optimization techniques for websites.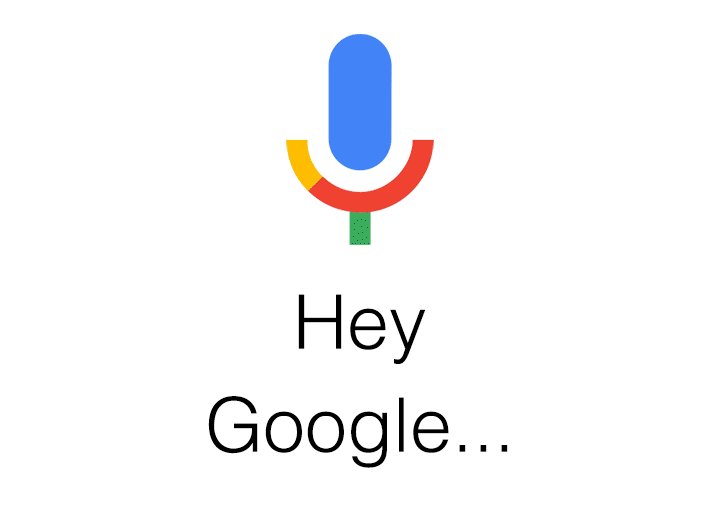 Voice search has been around for quite some time, but it was until recently that the growth had increased tremendously.
Most people now have smartphones, and things keep on changing how they search for things online.
They are experimenting with all the features so that they can save time and hence the increased need for the voice search technology.
This makes it vital for any business to website voice search, and according to other technologies that help people save time.
In this article, we give you a step by step guide for voice search optimization.
Voice Search Optimization Process
It is true that most people still use the word search to look for things online, but the need for the voice search is increasing, and this means that your SEO optimization should include both the current requirements and future voice search requirements.
And to do that, you need to devise a working plan. Analyze keywords that can be optimized for voice search and start producing new content targeting those search terms.
You can use a tool like SEMRush, Ahrefs or Google keyword planner to find Question-based keywords i.e. what, who, when, how, etc.
Voice search should be included in your overall digital marketing strategy for your business.
Get your website listed online
If you have a physical local business, it will be wise to consider registering it on the business directories online.
If you don't just operate locally, maybe you can skip the step.
But if you work locally, registering your business will be a great way of preparing your business for the future to come.
Smartphones make the use of voice search through voice assistants like Google assistant.
Unlike the text search, voice search will not be able to display results of a local business if it is not registered on local directories.
Analyze your existing keywords
It will be wise to keep it in mind that your clients will be using voice commands to search for things.
This means that you should have a plan to modify your existing content and use keywords in a way humans communicate.
For example, if your business deals with hosting, you can use a keyword like "best hosting company for my website"
The voice search is designed for longer keywords. This means long-tail keywords will be vital for voice search optimization.
Improve the loading time of your page
By now, you must know that the loading time of your website is one of the most essential things for ranking better on search engines.
A website with a faster loading time will be quickly processed efficiently, and this improves search result rankings.
But if it takes forever to load, your potential customers will most definitely look for alternatives.
Website Architecture and Structured Data Optimization
Websites should have a clear sitemap that includes categories, primary and secondary navigation to make it easier for search engines to understand the site structure.
Structured data tells Google what the content is all about and help Google connect the dots and make sense of information.
Use the Google Structure data testing tool to check if you have correctly implemented structured data markup for your voice optimized pages.
Topical, timely, and relevant content needs to go on the homepage, whereas evergreen and Q/A type of content can go under the Frequently Asked Questions section.
Integrating Frequently Asked Questions pages into every section of your website will make your overall website voice-friendly.
A study conducted by Backlinko concluded that voice search results are 1.7 times more likely to come from Frequently Asked Question pages compared to desktop results.
Small details matter
The small details are very crucial with voice search technology.
It concentrates on one website querying, and because of this, it is vital to ensure that the voice assistant will be able to get your information easily and quickly.
This means you will need to pay attention to details that your website is mobile responsive, fast, and it is secure.
Google has officially announced that "mobile-first indexing" will be enabled by default for all new, previously unknown to Google Search, websites in 2019.
Since most of the voice search comes from a mobile device, it is extremely important to have a fully responsive website.
Even if your website appears on the first page, if it is not mobile-friendly, a person will look for a better option.
Regular SEO will still matter
When you focus on making relevant and informative content and implement consistent SEO optimization strategies, your rankings will improve, and there is a possibility that it will have an impact on the voice search too.
Build a content strategy for voice search optimization and map content based on the buyer's journey.
Awareness: "What is the latest Samsung phone in the market?"
Interest: "Does the lastest Samsung phone have expandable storage?"
Evaluation: "Which phone has a better camera Samsung or iPhone?"
Purchase: "How much does iPhone 11 Pro Max cost?"
Customer Support: "How to perform factory data reset on iPhone 11?"
Loyalty: "What are the best Apple accessories for iPhone 11?"
Guides, how-tos are great to target informational search queries. press releases, services, product offerings are great to target navigational search queries.
Customer testimonials, product how-tos, and comparison are good to optimize your content for transactional search queries.
And a high domain authority will lead to the right amount of backlinks, and it will impact positively on your voice search.
Have a conversational tone for your website content
The main difference between the voice search and text search is that voice search emphasizes questions and answers and the queries contain conversational words.
So it will be essential to ensure that you provide answers to as many questions as possible and at the same time keep the tone of voice conversational.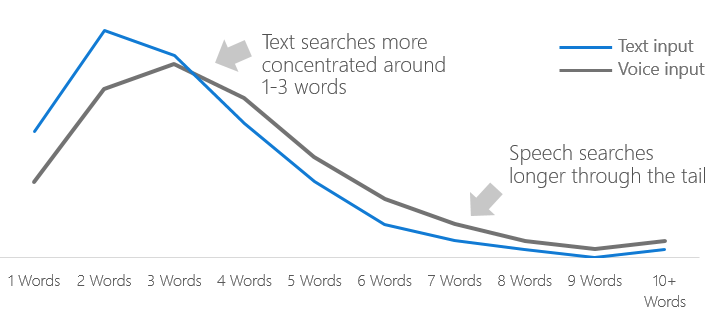 As you can see from the above graph, voice search queries are generally a bit longer and have more words in them.
This does not mean that you will need to target all the long-tail keywords. Voice search has more question phrases like who, what, when, where, why, how.
Try to interpret a user's intent based on the kind of question phrase a searcher might use for your brand, products/services and optimize your content around it.
And the good thing is that most of the questions will be asked by the readers reflects what other people want to know about your industry.
And on your content, make sure you try to use questions as titles and subtitles where applicable.
Make use of simple words
Most people who use voice search, use basic language to ask their questions.
So on your content, make sure that you use language that search engines can understand and be able to translate quickly in the results.
Google prefers to answer voice search queries that are short and concise.
And by the way, a short answer will be shown fast in voice search, so try not to be too wordy.
If you are using comprehensive words on your website, now is the time to change for the future.
Try to keep your answers to user's queries in 30 words or less to maximize the chance of getting picked by Google for voice search queries.
Information is the key
The voice search technology pulls the data to display from the internet.
This means that the more information you have about your business, the more the possibility of it being found by the virtual assistant.
Have complete information about your business on Google My Business directories and other third party websites, if possible.
Update your contact information and your working hours as well as the location of your business.
The more information you provide, the higher the possibility of search engines triggering answers based on your content for voice search queries.