Search intent is the reason as to why a user is typing a query on a search engine. It answers the question, what does the searcher or user want to achieve with the search?
Here is a detailed search intent optimization guide to improve your website rankings:
For instance, your reason might be to find something, obtain more information or buy. The success of your marketing efforts, SEO and PPC dramatically rely on your ability to create content that fulfills a user's search intent. When your content is aligned to search intent, you:
Increase share of voice
Make yourself relevant to your target audience
Boost your brand's awareness level
Drive conversions and retention.
Optimizing your website for keywords alone is not enough since they only provide a certain percentage of context.
It is easier for you to lead users to your website by establishing their reason for a particular search query, rather than leaving your chances to luck when a keyword shows up.
Types of search intent
While search intent can be classified in various types, most searches can be categorized into three categories, as shown below.
To learn about something. This is where the searcher is looking to find some form of information to guide them. These searches can contain terms such as "what is," "how to," and "review."
To take action. The user intends to make a specific move such as sign up for a free service, purchase something, number, get directions, find a phone or download a template.
To find something. This is where a user is clear about what they are looking for and are using the search engine to quickly locate it instead of directly typing the URL in the address bar. Most of the time, these are searches for branded terms.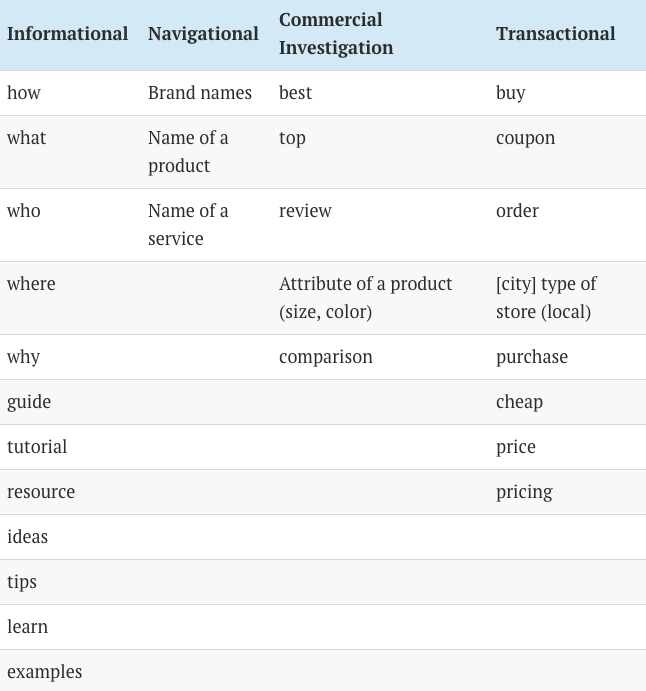 Below are the four major 'types' of search intent:
1. Informational
In informational searches, the user is looking for information. This could be an answer to a simple question like "how many planets are there in the solar system? "
Or a question that requires a longer and detailed answer like "how does cryptocurrency work?" However, some informational searches are not formulated as questions. Below are examples of informational searches:
"football scores"
"who is Julian Assange?"
"HTML 5"
"Manchester airport directions"
2. Navigational
Navigational searches occur when a user has already decided about the webpage to be visited.
Their intent is clear and they can easily Google it instead of typing its URL in the address bar. Users may also no know the website's exact URL. Examples of navigational searches include:
"ahrefs content explorer"
"Facebook"
"Twitter login"
"beginners guide to SEO moz"
3. Transactional
The searcher is intent on making a purchase. It is highly likely that they have decided about what to buy. In transactional search intent, searchers are looking for where to buy from. Examples of transactional searches include:
"samsung galaxy s10 cheap"
"buy macbook pro"
"nordvpn coupon"
4. Commercial investigation
In a commercial investigation, the searcher is looking to find a specific product or service though they have not decided on what to pick. They are mostly relying on customer reviews and comparisons to help make up their mind. Below are examples of searches under commercial investigation:
"mailchimp vs convertkit"
"best protein powder"
"ahrefs review"
The Importance of search intent
You can get greater insight into your audience's contentment needs by closely looking at each of their search's intent. Besides helping you generate content ideas, it enables you to see how the content fits their needs, which helps your website rank high within a short time.
Your content has a high chance of being discovered by potential clients when the content has been augmented to help gain a strategic position. Assessing the search intent helps your website attract the right clientele and minimizes bounce rate and cases of dropped shipping carts since your content becomes a perfect fit for a user's search.